Graduation is serious business at the Downtown Boxing Gym. Our students work hard with dedication, focus, and discipline to learn and succeed – especially this year's graduating seniors who had to navigate the challenges of COVID-19 on top of their schoolwork.
But on Saturday, June 12 it was all about celebrating and recognizing our students' incredible achievements. DBG hosted a festive graduation party and diploma ceremony to honor the Class of 2021.
"This is a testament to the hard work DBG has been putting in," said Kristin Lusk, DBG's Associate Director of Academics. "A lot of our students have been with us since 5th, 6th and 7th grade."
The gym was filled with smiles and laughter as friends, family, DBG board members, staff and DBG alumni came together to commemorate a job well done. Music filled the gym, cameras flashed to capture the moment, and a special ceremony was held, complete with heartfelt speeches, as each senior received an honorary DBG diploma.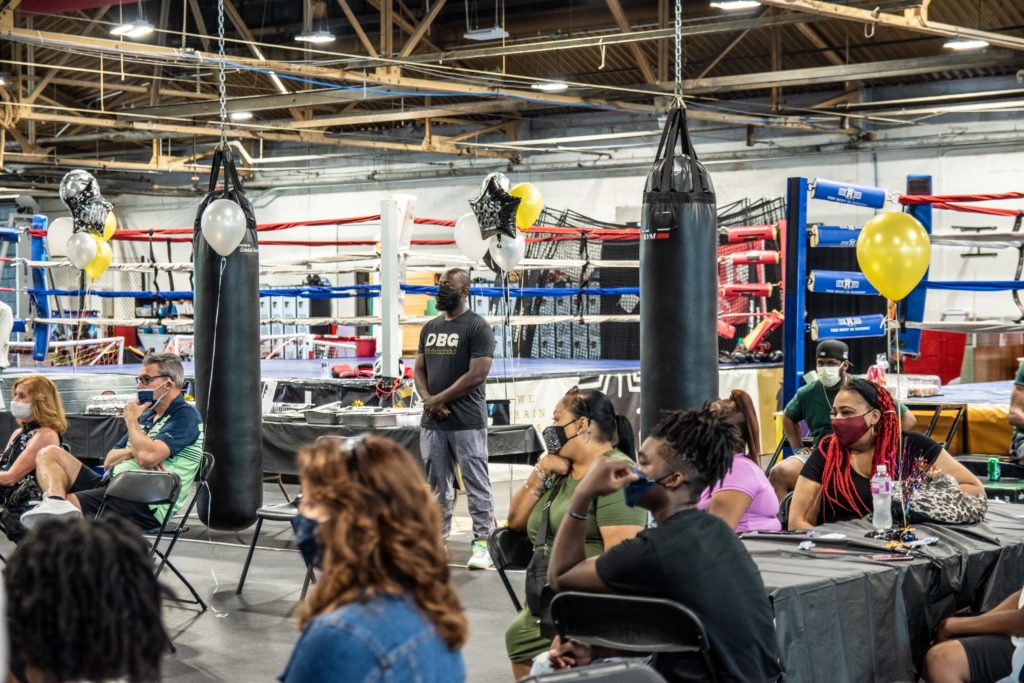 "I didn't know how to read going into 9th grade, but DBG helped me build my confidence in reading and helped me grow as a reader," said Reynard, a future electrical engineer who's headed to Southern University and A&M College in Louisiana in the fall. "I'm at my grade level and I graduated. I'd just like to thank DBG for giving me this opportunity."
After the graduates were presented with their diplomas, DBG Board Chair, Rakesh Aneja, presented the seniors with gift baskets filled bedding, towels, pillows, trash cans, planners, blankets, comforters and a water bottle. The gifts were purchased with funds from individual donors. The board also gave each senior an Amazon gift card for additional supplies.
"[You students] are the reason this community has come together and it's days like these and accomplishments like these that make us so proud," said Aneja, head of eMobility for Daimler Trucks North America. "You students make us proud every single day with your hard work. You inspire us. As you now take the next steps in your life's journey, I wish you all the best. You can accomplish whatever you set out to do with determination and hard work."
Following the ceremony, the seniors got creative, designing and painting a custom pair of personalized boxing gloves as part of a new tradition. One glove will remain at DBG and the other glove went home with the students as a reminder that DBG will always be in their corner. Members of the Adidas design team led the project. One student, Chauncey, painted the numbers 999 on his gloves, "to represent success and moving on to a new life."
Asiya El (aka Coach Tamika) shared these parting words of wisdom.
"Life is about to start for real and now that life is about to start, whatever you decide to do – make sure you do your very best," she said. "At the end of the day, just know that you always have a home here. We love you for real."
Congratulations to our seniors and thank you to the following DBG supporters who helped make the celebration a great success: DBG's Board of Directors, Tom and Jeanne Petzold, Abraham and Ilana Ben-Ze'ev, DICK's Sporting Goods, Adidas design team, and Salt + Ko.
DBG continues to support our students through the first few years of college, so we'll be looking forward to keeping in touch with these amazing young leaders and following their progress.