Every week, our DBG vans, drivers and team members are hard at work, delivering emergency food boxes to our students and families, and getting tens of thousands of masks and thousands of gallons of hand sanitizer to dozens of other nonprofits across SE Michigan. We are proud to introduce some of the DBG team members who are making our COVID-19 emergency response possible on the front lines. Meet Coach Tone.
Around the Downtown Boxing Gym, Antonio Perry is known as "Coach Tone." A fixture at DBG for nearly five years, our students have grown to depend on him daily as a strength and conditioning coach and mentor who helps them build physical fitness and self confidence.
"It's important to be dependable," Coach Tone says. "Many of these kids don't have a lot of consistency in their lives."
When the March "Stay Home – Stay Safe" order from Governor Gretchen Whitmer temporarily closed Michigan schools and businesses, DBG had to pivot and find new ways to interact with students. How could we mentor young people and physically train them from afar? We quickly converted our 100% in-person program to a 100% online program.
These days, Coach Tone leads Zoom online group workouts for students every afternoon.
"I have three kids of my own and I know how much pent up energy they have after a day of sitting in the house," he says. "It's so important to give these kids a safe outlet for it."
Wednesday and Friday mornings are reserved for virtual mentoring sessions, an opportunity to connect with the students, see how they're doing, and find out where they might need some help.
When Coach Tone is not leading virtual group workouts or online mentoring, he is out making deliveries of emergency food and supplies like hand sanitizer and masks to DBG families and nonprofits across Michigan. Each week, DBG's fleet of vans is on the road delivering those life sustaining supplies across our community.
"The Downtown Boxing Gym is an incredibly giving community," he says. "It is amazing how many caring people are volunteering right now."
Like all DBG staff members and volunteers, important COVID-19 safety precautions are being taken. Coach Tone wears a mask and gloves at all times during each delivery shift in addition to regularly cleaning and sanitizing the vans. It's part of the "new normal" we are all facing.
What really fills his heart, he says, is seeing the kids light up when he comes by with food, supplies and study packs — and on one recent delivery — laptop computers.
"It is really important for the kids to be able to stay connected, not just to DBG, but to school and their friends and family."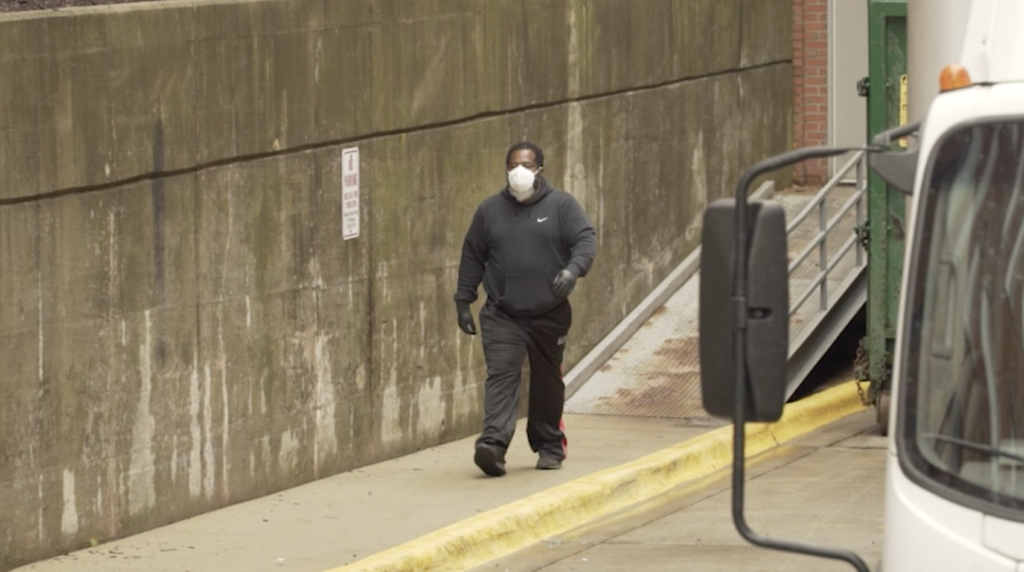 At home, Coach Tone's wife and three children — ages four, 11 and 14 — are adapting to life during a global pandemic (in all, he has 7 children and 2 grandchildren). His wife works from home and all three children are participating in online learning. Tone credits their strong family values and solid upbringing for giving them the ability to roll with the punches.
"My family 100% supports the work I'm doing at DBG and they are so proud of me," he says. "The world is really changing, and I don't think it's ever going to be the same. It has been a unique opportunity to see how fortunate and unfortunate we all are. My family feels blessed not to know anyone who has lost their life to COVID-19, and I am grateful that I can be of service to those who are struggling with their situation currently."
Coach Tone says he could not be more proud of the way DBG has responded.
"DBG is reaching out to everyone in the community, not just our students and their families. We've collaborated with other organizations, we've packed and delivered meals for the elderly," he says. "DBG has really gone above and beyond during this crisis."
comments