Every week, our DBG vans, drivers and team members are hard at work, delivering emergency food boxes to our students and families, and getting tens of thousands of masks and thousands of gallons of hand sanitizer to dozens of other nonprofits across SE Michigan. We are proud to introduce some of the DBG team members who are making our COVID-19 emergency response possible on the front lines. Meet Shaquana Suggs.
When Shaquana started volunteering at Downtown Boxing Gym, it was her way of giving back. Her 10-year old son attends our program and she wanted to help.
"I wholeheartedly believe in the program.  They go above and beyond; we are truly blessed," she says.
Shaquana also joined our staff of van drivers in March, just as the COVID-19 pandemic was unfolding.  Before coming to work as a driver she had been a stay-at-home mom, with a small catering business on the side.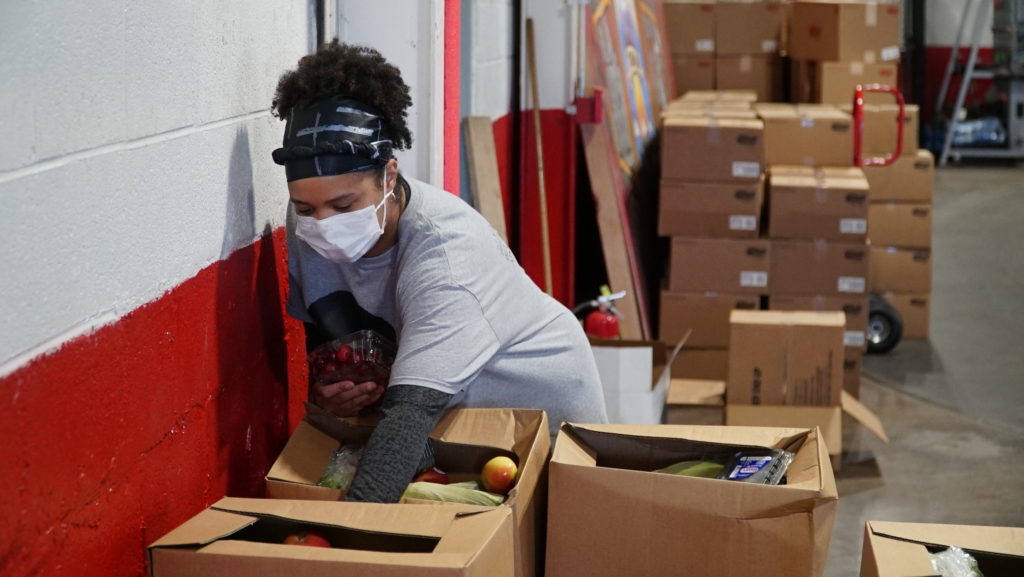 Things quickly changed as the State of Michigan put in place stay-at-home orders starting on March 21.
"DBG asked if I would pivot my role and be interested in becoming the kitchen coordinator; I accepted the challenge," she says. "I felt like it was the least I could do.  It is a pleasure to give back."
Each week, Shaquana receives food deliveries from a variety of sources at our facility on E. Vernor to be distributed to DBG families by our fleet of vans. She inventories everything that comes in and distributes it into family-specific packages for the weekly routes carried out by our team of six drivers.
"So many local businesses have really stepped to the plate for these families," she says.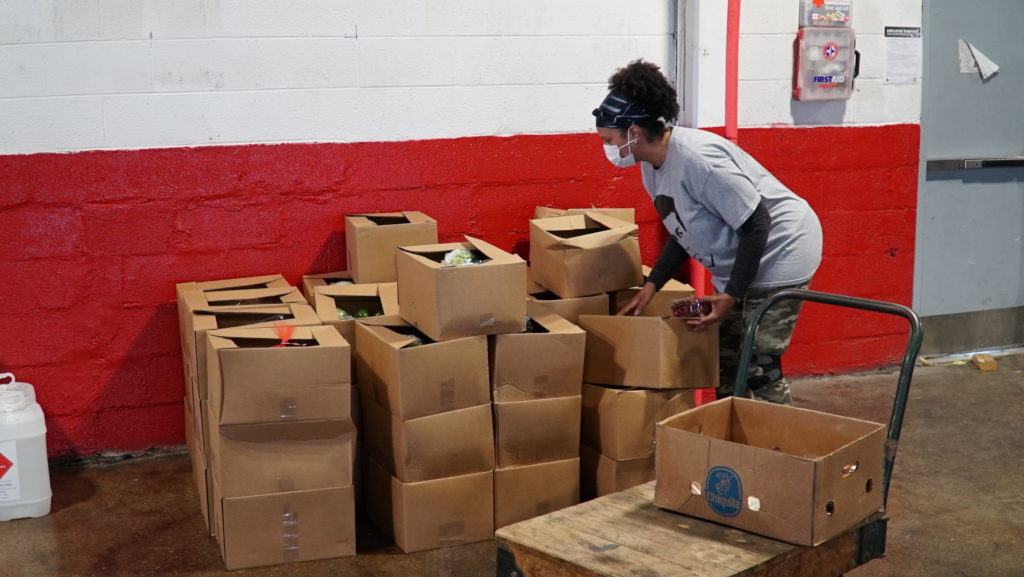 "I realized my catering experience prepared me for this.  I get the satisfaction of nourishing people and the families are so grateful, especially the kids."
In addition to the DBG deliveries, she is also overseeing deliveries on behalf of United Way.  Each week, we deliver sanitizer and face masks to local nonprofits, hospitals and community organizations, too.
Shaquana's loyalty and gratitude are what keep her motivated during these difficult times.
"The Downtown Boxing Gym has done so much for my son during the pandemic.  He has a schedule, he works out five times a week, he has enrichment lessons twice a week and they provided him a laptop for tutoring," she says. "They are so committed to these kids."
Also at home is her 15-year old daughter who has transitioned to an online curriculum at Cass Tech High School and her husband, who works for Chrysler, who was off work for a few weeks.  He returned to work on May 18.
Health and safety are important concerns for Shaquana during COVID-19, for her family and the staff members and volunteers she works with . She takes precautions based on federal, state and local guidelines, and wears protective gear at all times at DBG. Most importantly, she says she's thankful for the support of her husband and children during this unusual time.
"They know me," she says. "I don't think I'm comfortable unless I'm giving back."
comments