Dino Ruggeri has become a regular volunteer at the Downtown Boxing Gym. The graduate of Grosse Pointe North High School is helping to take after-school tutoring to new heights. The Downtown Boxing Gym is grateful to have such dedicated volunteers. Check out our volunteering page to get involved or for more information.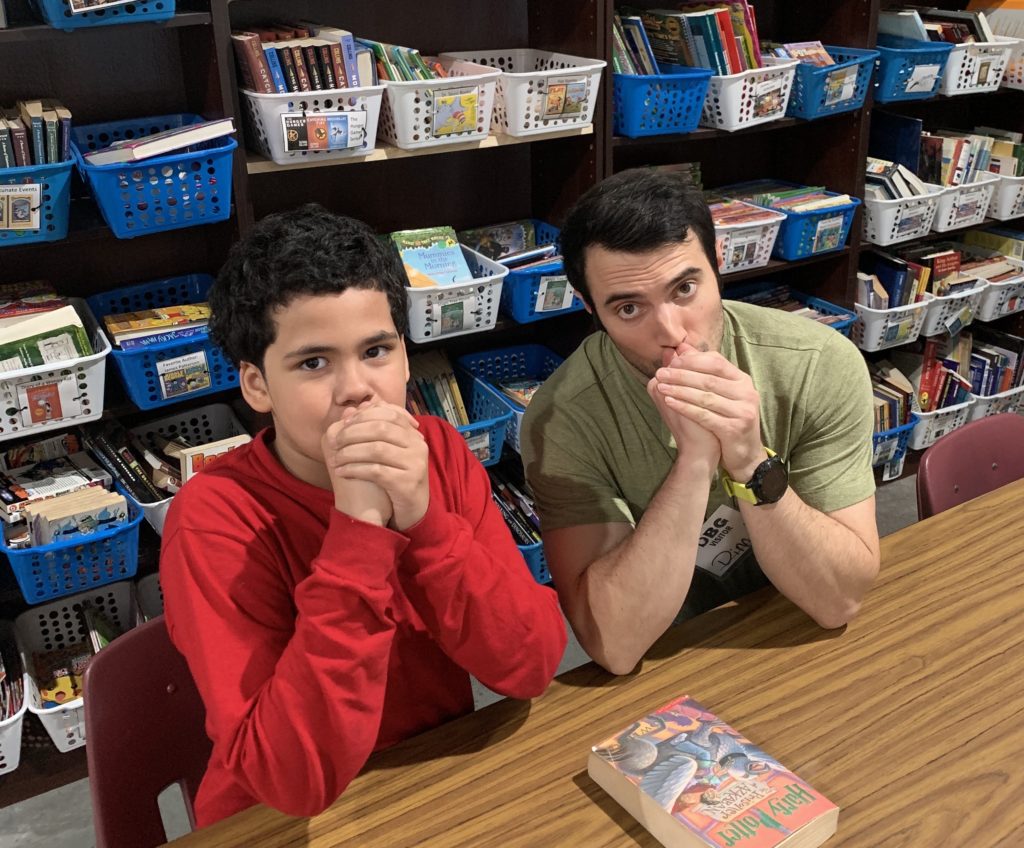 It was his experience working with children in the mountains of Colorado that ultimately drove Dino Ruggeri to become a regular volunteer at the Downtown Boxing Gym. Ruggeri, 31, balances working two jobs — at REI, the outdoor equipment retailer in Troy, and at Eastern Market Brewing Company in Detroit — with his first foray into entrepreneurship. He's aiming to open a rock climbing gym in a new building on the Dequindre Cut in Detroit's Eastern Market later this year.
And he does it all while being a committed DBG volunteer.
"I like so much about it," he says of being a volunteer. "A very sensitive, dear thing to my heart is kids. I like kids. When I was in Colorado I was with them all the time. When I came back, I didn't have that."
Ruggeri earned a degree in environmental studies from the University of Michigan in 2011. He moved to Colorado after graduation to work as a children's ski instructor and summer camp counselor, which is where he says he discovered his affinity for working with students.
"Their vigor for life is really, really inspiring," Ruggeri says. "I wanted to be around it more and I wanted to be supportive of kids and let them know that there are resources out here for them."
When he returned home, Ruggeri quickly realized there were no climbing gyms in the city of Detroit, and he believed it would be a good opportunity to expose kids in the city to the sport.
"Climbing translates really well indoors, and of all the activities that I like to do, climbing is really multifaceted: It's good for the body, it's good for the head. It's a lot of problem solving," he says.
So he worked up a proposal and entered it in Motor City Match, a small business accelerator and grant program, and won the first tier for business plan.
That's also how he got connected with the Downtown Boxing Gym, after someone in the program gave him one of the gym's business cards. Ruggeri says he drove by the gym and kept hearing about it, and finally decided to reach out.
Ruggeri says he's experienced many highs from working with DBG students, including helping one student write a five-paragraph essay from outline to a fact-checked, formatted and finished product.
Ruggeri has been helping out as a tutor — and for a while as an instructor on a climbing treadmill wall — once a week for a couple of years now.
"Even times where I have all this other stuff I've got to do, or I'm tired, every time I go [to DBG] and I leave, I know I did something good. I feel connected," he says. "When I leave the boxing gym, I feel like a human. It's pretty powerful. Even if it's just an hour. Even if you work with just one kid, you feel connected."
"Rewarded is not the right word," he says, "Fulfilling is getting closer. Kids know that you care. I always say that kids know heart. They know where your heart is. It's about showing up and paying attention to the details of their life the best you can."
Thank you, Dino, for all you do.
This is part of a series of blog posts to spotlight and celebrate the professionals from all over metro Detroit who give of their time and talents to help our students every single day. We are truly thankful for our volunteers and the spirit of community they bring to the Downtown Boxing Gym. Together, we are changing lives and helping make our students' dreams come true. Check out our volunteering page to get involved or for more information.