Sophia, a junior at the University of Michigan, is currently studying abroad in Dakar, Senegal. But she says her heart is at DBG and she'll be returning as an academic tutor with our students this fall. The Downtown Boxing Gym is grateful to have such dedicated volunteers. Check out our volunteering page for more information.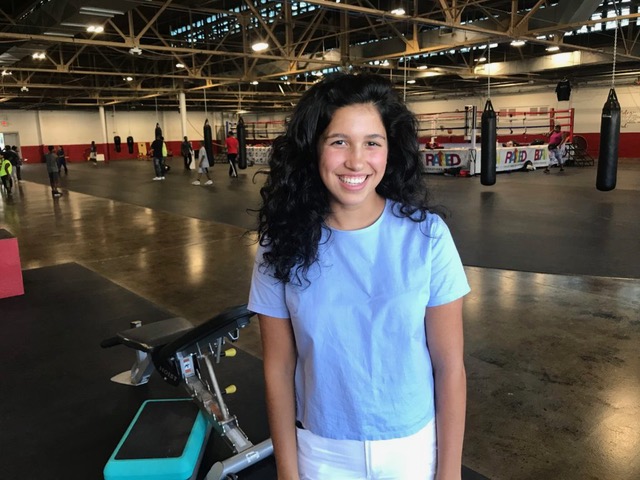 For most of her college career, Sophia Filipe has been connected to the Downtown Boxing Gym. It was during the summer following her freshman year that the 20-year-old from Saline first came to DBG. She applied for a 12-week internship through U-M's LSA Opportunity Hub which partners with different nonprofits in Detroit to offer students a variety of internship experiences.
"It just was very unique," Filipe says about DBG. "I thought it would be a super cool experience, and it was."
She spent the summer of 2018 working with DBG's academic coordinators to help develop and launch a social-emotional learning program focused on helping students build empathy and teamwork skills and develop emotional regulation. Filipe created an eight-week schedule with different activities geared around building social-emotional skills.
She also helped out with filing and communications tasks, assisting students with reading tests, and speaking with them about college readiness.
"I am so close in age to some of the students," Filipe said. "I feel I can really empathize with them and identify with the things that they are feeling. It was really cool to work with them as well."
Sophia enjoyed her experience so much, she returned to DBG as a weekly volunteer starting in December 2018, doing tutoring in math and reading, and later shifting to work exclusively with high-school students. Her ability to speak French also led to an opportunity to work with three students who asked for help with that subject.
Filipe says she was set on her course of studies when she first arrived at DBG to get a taste of nonprofit social advocacy. She's also seen the governmental side by interning in the Canadian Parliament for a member who sat on a council for human rights, international development and foreign affairs.
This summer, she'll get a taste of the for-profit side of organizational studies when she interns at Cisco Systems in the human resources department, where she hopes to land in the corporate social responsibility division.
She says her time at DBG has inspired her because she got to see first-hand the great work nonprofits can do to impact young people's lives.
"They also taught me a lot about myself, a lot about the kind of person I want to be," Filipe says. "And they just challenged me to be better."
Filipe has a lot on her plate. She's working on a double-major in international studies and organizational studies, with a minor in French. She's also active with the local chapter of Alpha Phi Omega, a national fraternity focused on community service. Sophia is spending the winter 2020 semester in Dakar, Senegal.
Once she lands back on the U-M campus this fall, she says, "I will definitely be back at the gym."
Keep up the great work, Sophia, your DBG family is rooting for you!
We could not do what we do without our amazing volunteers! This is part of a series of blog posts to spotlight and celebrate the professionals from all over metro Detroit who give of their time and talents to help our students every single day. We are truly thankful for our volunteers and the spirit of community they bring to the Downtown Boxing Gym. Together, we are changing lives and helping make our students' dreams come true.