As part of an ongoing program to make COVID-19 testing more accessible to residents across the city of Detroit, Wayne State University, ACCESS, the Wayne State University Physician Group, and Ford Motor Company set up a mobile testing site outside the Downtown Boxing Gym (6445 E. Vernor Highway) on Saturday, June 6 from 10 a.m. to 6 p.m.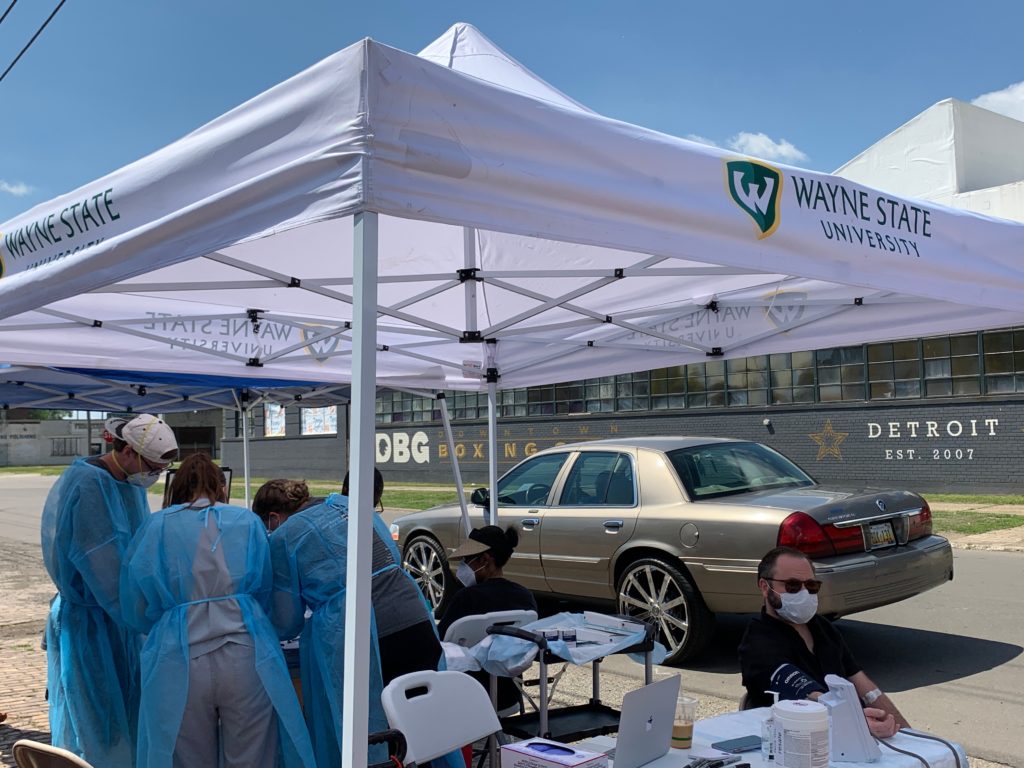 Free COVID-19 swab tests and antibody tests were provided to Downtown Boxing Gym families and neighborhood residents, ages 18 and older. In addition, participants received free blood pressure screenings and HIV testing for those ages 13 and older.
"The testing event at DBG demonstrates the power of partnerships in meeting community needs. Five organizations with community-focused missions have come together to protect and serve DBG members and nearby residents with COVID-19 testing and other much-needed services," said Phillip D. Levy, MD, MPH, FAHA, FACC (Edward S. Thomas Endowed Professor and Associate Chair for Research – Department of Emergency Medicine Assistant Vice President for Translational Science and Clinical Research Innovation – Wayne State University Chief Innovation Officer – Wayne State University Physician Group)
DBG is a free, after-school academic and athletic program that serves 150 students ages 8-18, providing reading and math intervention, tutoring, mentorship, college and career readiness, healthy meals, athletics and more, Monday through Friday all year round. During the coronavirus pandemic, we have kept our program going virtually by providing daily online tutoring, mentoring and group workouts for students, and deliveries of emergency food, paper goods, cleaning supplies, and academic materials for its families each week.
Since March, DBG has also served the larger community by delivering thousands of gallons of hand sanitizer and tens of thousands of masks to nonprofits across southeast Michigan using its fleet of vans. A safe re-open plan to bring students back into the gym is in the works.
"Throughout this pandemic, our team has been working to serve the most urgent needs of our students, families and our community in every way we can," said Khali Sweeney, DBG's Founder and CEO. "Arranging for free COVID-19 testing outside of our gym is one more way we can help prevent the spread of this virus and help those in the immediate area who might not have access to transportation or the resources to get tested elsewhere."
The mobile testing initiative was first launched in April with vehicles, drivers and equipment donated by Ford, and testing conducted by WSUPG and ACCESS health care professionals and volunteers for symptomatic first responders, health care workers and corrections officers in Michigan. The effort has since expanded to serve neighborhoods like the one surrounding the Downtown Boxing Gym. To date, approximately 8,000 people have received testing.
Testing is free and does not require a prescription from a physician. Results are returned with in 24 to 36 hours. Anyone 18 and older is welcome to come by 6445 E. Vernor until 6 p.m.
comments