For the first time since the COVID-19 pandemic put life on lockdown in March, the Downtown Boxing Gym has re-opened its doors to students in our free, after school academic and athletic program. DBG's leaders consulted with health and safety experts from international corporations to doctors and state and local leaders to determine best practices and develop the safe re-open plan that is now in action. Click the video player below for a look inside.
DBG's plan includes:
Temperature screenings at the door for all staff and students 

Mandatory face masks in the gym and in our vans

Plexiglas-divided desks and seating in our vans

Work areas spaced 6-feet apart

Touch-free sinks, soap dispensers, and water bottle filling stations

Hand sanitizer and hand washing stations

Floor-to-ceiling netting to separate, but not isolate, the kids

Cleaning kits and protocols

Social distancing stickers on the floors with fun riddles and problems to solve

A "get well" quarantine tent and safe areas for students who need to remove their masks
A  new distribution system for meals and snacks

And colorful signage everywhere reminding everyone – including our founder and CEO Khali Sweeney – to do their part to protect themselves and others from the virus that has changed our world
These measures – and many more – are all part of DBG's extensive safety protocol to provide the clearest and safest path back to "normal," and one that could set the bar for metro Detroit classrooms come fall. To read more about our plan CLICK HERE.
"What you see is the result of months of intense planning and staff training," says Jessica Hauser, DBG's executive director. "From the floor stickers to keep kids engaged and alert to safe zones where they  can take a little breather from their face masks if they need it, every safety measure was created to empower our students with lifesaving knowledge without adding anxiety or instilling fear."
The atmosphere at DBG throughout the first two weeks suggests our approach is spot on. 
Anticipation filled the air as students made their way from DBG'a vans to the screening tent in the new garage entryway, where Ms. Teasha  offered a warm hello, conducted a touch-free temperature check and asked questions about health, travel and possible exposure to the virus.
Once inside, students seemed at ease in their new, smaller groups. Students and coaches kept things light, sharing jokes, playing games, discussing plans for the summer, and offering touching thoughts about life during quarantine.
Any anxiety over the COVID was no match for the face-to-face connections that pumped hope and joy throughout the gym.
For now, the reopening plan includes rotating days of attendance to keep groups small. After all, Hauser says this is a learning process for everyone.
"We structured attendance, so we can navigate this uncharted territory as safely as possible," she says. "It's a huge change and we want to ensure staff and students have time and space to adjust. We owe it to ourselves to get it right."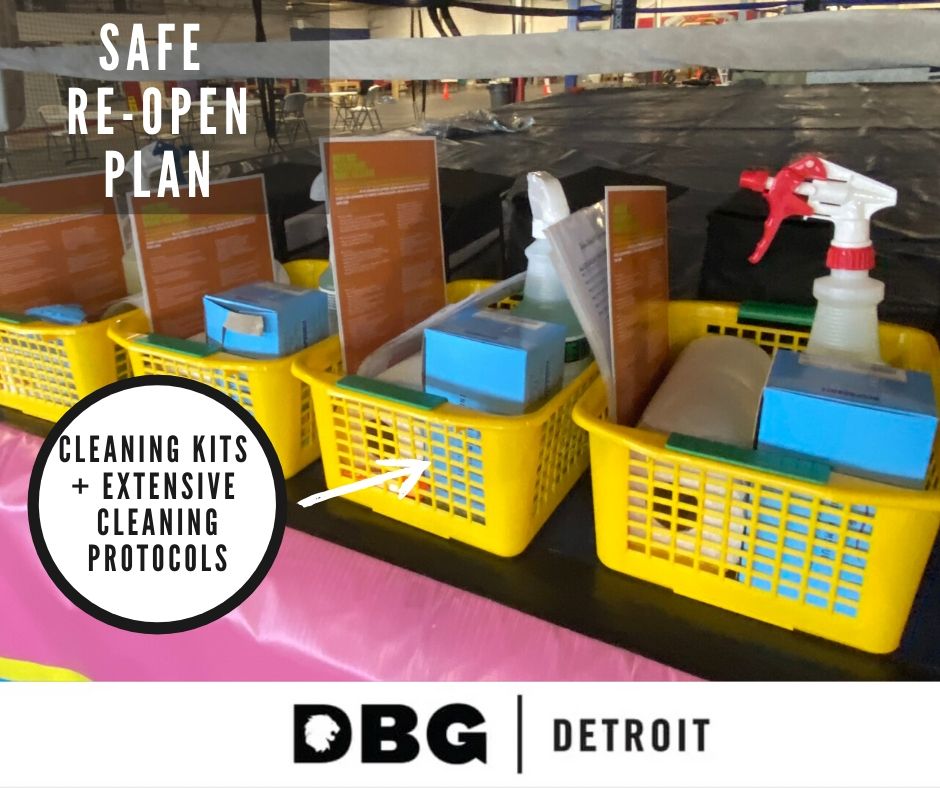 DBG's athletic programming lead Brandon Fairley echoed that sentiment. We found him setting up the gym and cleaning mats and other equipment for an outdoor class.
Behind the face masks are children who have endured a lot. The outbreak, he says, has taken a toll, the extent of which adults may not fully grasp.
"Today, we're going to take some time to discuss the impact of COVID-19 on our youth population, just getting a feel about how they feel about this and how it has affected them because it is such a different time we're living in and we just don't know," Fairley said. "Hopefully they can give us an idea of how they want to move forward with programming. We are in uncharted territory and we don't necessarily want to implement our same approach without first assessing and understanding their needs."
Special shout out to Salesforce for the creative brainpower  and design work on our signs, a handbook and a special song, for making it all come to life and for helping to make a serious topic fun and engaging for our students.
We will continue to operate using a split schedule from 2 to 6 p.m. daily through July 10, and will move to a full-day program from July 13 through August 21, Monday – Friday, ​​​​​​10:30 a.m. to 7 p.m.
Through it all, our emergency food deliveries and virtual classes continue for those who need them. To support our ongoing efforts CLICK HERE. #standwithDBG