"I don't have words to express this experience. We would like to do something like this in our communities. You're doing this from scratch."
Those are the words of Alejandro Godinez, a 51-year-old soccer coach from Nicaragua. He's just one of twenty-two coaches and athletic professionals from Nicaragua and South Africa participating in the U.S. Department of State's Sports Visitors Program, an effort to create a cross-cultural immersion experience through the world of sports.
Alejandro explains that many students in Nicaragua are also in need, but there are no organizations like the Downtown Boxing Gym and resources are much harder to come by.
"They are such wonderful kids; you are changing their lives for good," he says of DBG.
The coaches and organizers who come as a part of the Sports Visitors Program visit the United States to observe the educational and cultural experience provided to youth across the nation.
After five days in Chicago, the group made their way to Detroit where they toured DBG's facilities, learned about programming, and got to pick the brains of the masterminds behind it all.
DBG's founder and CEO Khali Sweeney guided the cohort around the gym along with other staff members. The coaches and organizers alike were amazed by the opportunities afforded to the kids.
"We're trying to share our message globally to share what we've learned through our journey to this point with other places that can use this information and our help," Khali said.
The program is coordinated by Ryan Plourde with the Family Health International 360, known as FHI360, a nonprofit specializing in creating "integrated, locally driven solutions for human development." The Global Connections department of FHI360 partnered with the State Department's Bureau of Educational and Cultural Affairs (ECA) to bring the cohort of coaches across the country. After Detroit, they're headed to Seattle for the final leg of the two-week program.
"Meeting with the organization to talk about their youth development philosophies, the origins of the program, and the work they're doing in the community has been wonderful," says Plourde. "We're also here to spend time with the kids on the field."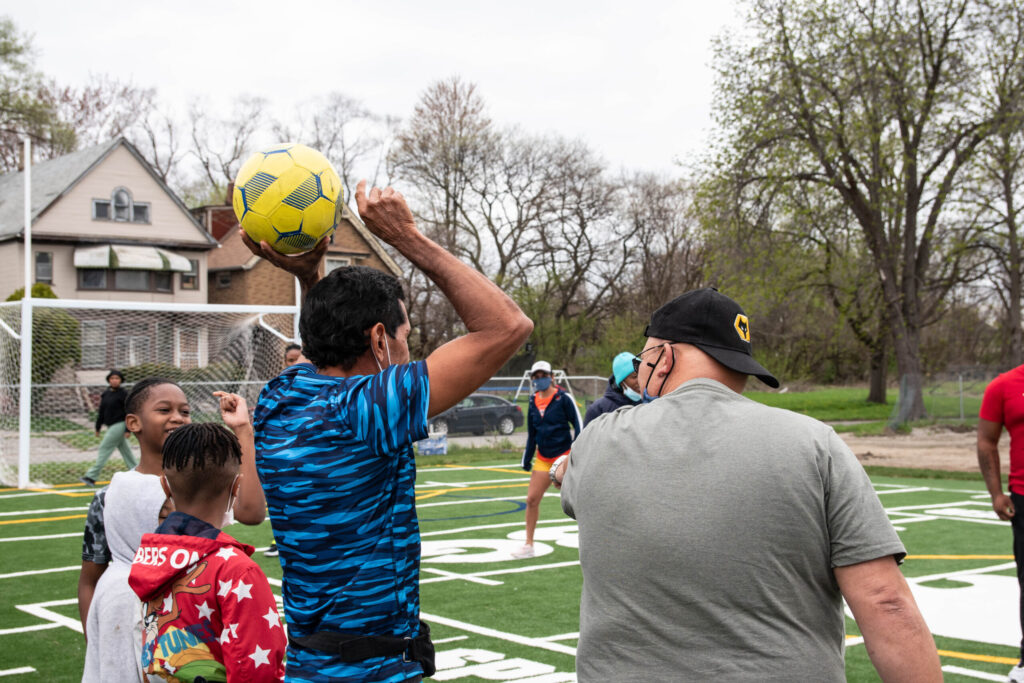 After touring DBG, the coaches ran drills with students on DBG's new multi-sport athletic field provided by DICK's Sporting Goods. Their coaching and mentoring skills were on full display with energy and enthusiasm for teaching soccer. Our students loved any minute of it. The kids were all smiles.
The Sports Diplomacy Program highlights the immeasurable impact that sports can have.
Khali's story inspired the cohort, as he shared his own challenges and lessons learned along the way to building DBG into the leading out-of-school time program it is today.
"I knew education was the key," he says. "It's one thing to have a boxing gym but combining education with athletics was what would differentiate the DBG and help the community. I didn't have a plan. I didn't know what I was doing. But I had a dream and a vision. Seeing kids here today and dead tomorrow – that was not an option."
"Our program is for our community – and when I say our community, I mean the whole world," Khali added, noting that DBG is in regular communication with youth mentors in Ireland, Uganda, Kenya, and Spain.
Siyabulela Quangule from Cape Town, South Africa, works with various organizations to get his boys better opportunities – both in their athletic careers and educational pursuits. Similar programs to the DBG are rare across the globe. Implementing education alongside athletics is something Siyabulela wants to take back to Cape Town.
"When it comes to sports, it's a therapy, it brings hope, it unites people, and unites different cultures," said Mawande Detra, an educator in physical sciences from South Africa and a head soccer coach. "It's a universal language everyone can speak."
DBG was thrilled to host this amazing group and share our knowledge to benefit children across the world.