The sights, sounds and flavors of African culture filled the Downtown Boxing Gym during a special Martin Luther King Jr. Day celebration on January 17. Our students broke up into groups and took turns learning about drumming and dance, martial arts, and the delicious aromas and spices of African cuisine. Click the link below to watch.
It was a different type of MLK Day celebration and that's intentional. Our founder and CEO Khali Sweeney constantly challenges our team to develop innovative programming that makes our students think more deeply about the subjects they learn. That way, they're motivated to do their own ongoing research – about culture, science, technology, math, or anything they decide to pursue. It's one of the many ways we empower DBG students to succeed and become lifelong learners.
Mamba Hamissi, founder of Baobob Fare restaurant in Midtown, definitely provided some food for thought when he shared his story of migrating to America and overcoming adversity to achieve his dream.
"I'm from Burundi, one of the poorest nations in the world," he told the students. "I came to Detroit as a refugee."
When Mamba arrived, he knew very little English. With hard work, time, and dedication, he and his wife opened their East African restaurant, market, and juice bar in the midst of the COVID-19 pandemic. Baobob Fare was quickly named one of America's best new restaurants.
He encouraged our students to try the dishes he brought to DBG which included plantains, coconut rice, savory chicken and beef dishes, beans, and corn salad.
"I like it," said one smiling student with a plate full of food.
Across the gym, another group was learning about West African drumming and dance with Jeffrey Nzoma and his team from the Detroit African drum and dance collective.
"We're all about exposing our kids to new experiences and sparking new interests within them," said Asiyah Williamson, DBG apprentice, associate director of athletics, and a DBG graduate. "African heritage is something they never really have an opportunity to explore."
As the rhythmic beat of drums filled the gym, students got the chance to try drumming, learned new dance moves, and tried their hand at Capoeira, a martial art form created in the 16th century by West African people enslaved by Portuguese colonists. It was like a history lesson, come to life.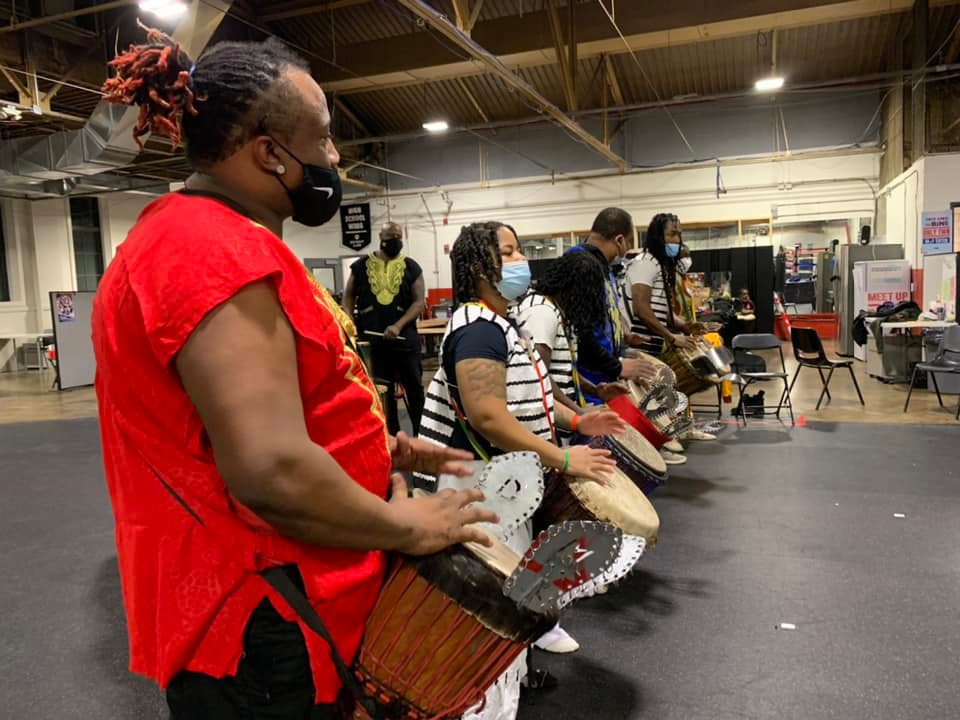 "Today was a surreal experience," said 9th grader, Zion. "African culture is something new. It's something I've never really experienced before."
"We got to do a lot of fun things, learn new dances, do Capoeira, it was amazing," said Christian, a DBG 5th grader. "When I got to the dancing part, that's when I thought, this is in my 'genre.'"
The drum and dance group also put on a performance for the students which included a surprise appearance by a stilt walker known as a chakaba.
"He's a protector," said Jeffrey Nzoma with the Detroit African drum and dance collective. "He represents our ancestry and reminds us we are connected to those who came before us and we have a responsibility to those yet to come."
"MLK day is a day when we celebrate the life and legacy of Dr. Martin Luther King, Jr. All the things he lived, all the things he taught us about freedom, justice, equality, about love and empowered love, community and about fighting against oppression," Nzoma continued.
"I talked [to the students] about the historical legacy of African drum and dance and African resilience in general. All the different parts of the rhythm come together and make beautiful music – just like when we all work together to make something beautiful in our communities."
Thank you to Target for a grant to support this special event.