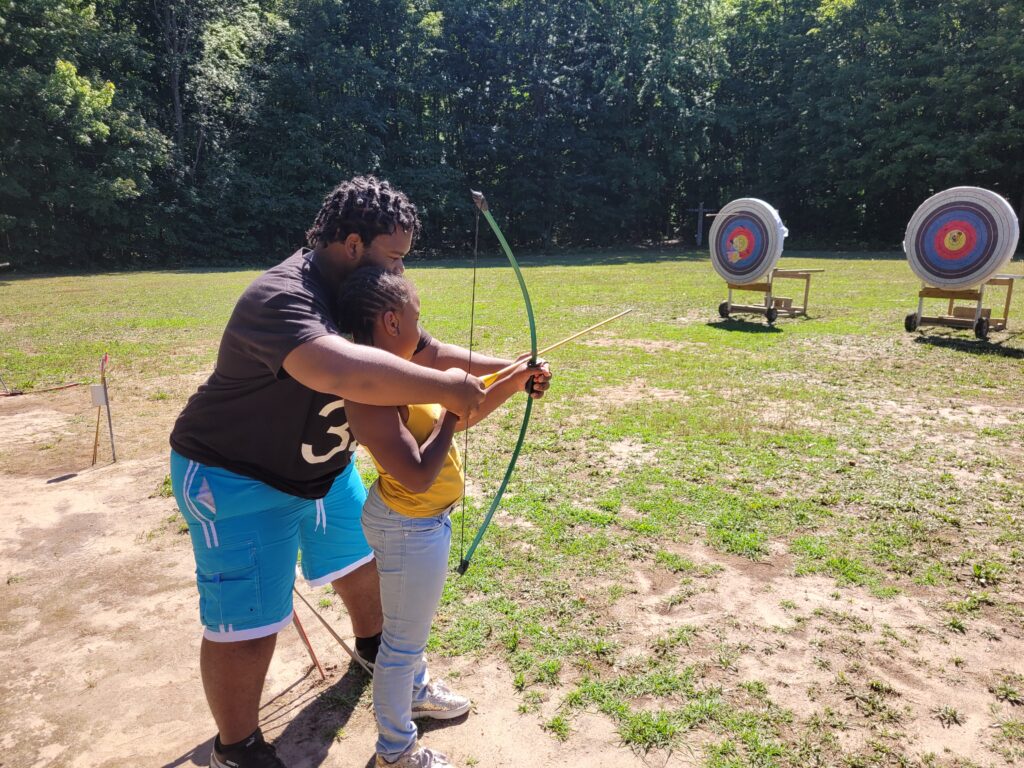 From archery to tubing, biking, nature walks, arts and crafts, swimming, boating, sports, and even s'mores, 50 DBG students had an experience of a lifetime this summer at Camp Tanuga in Kalkaska (30 miles east of Traverse City.) The camp includes 220 acres of wooded trails, grassy fields and modern day play areas overlooking Lake Manistee.
"Camp Tanuga is deeply committed to the philosophy of a traditional camping experience," reads the camp website. "Values, as depicted by our respect for nature, the environment, and the development of accepting others for who they are, stand out in our mission. Our objective for each camper is to build self-confidence, develop a cohesive family feeling and create the assurance of belonging."
Packing up and heading off for the overnight camp adventure was a new experience for many of our students.
"Camp is a huge exercise in confidence and independence for the kids," said DBG Academic Support Specialist Morgan Parr who went along for the journey. "They try totally new things around new people, and are encouraged to be silly, curious, and brave, all while roughing it in nature."
The amazing 3-day trip was made possible thanks to generous support from the Bear Hug Foundation, a Birmingham-based nonprofit organization that sponsors students to go to overnight camps. Since its inception, Bear Hug has given over 3,500 children the opportunity to attend a residential summer camp program.
"Our broad range of programming and camp activities help foster personal growth and strengthen self-image, while building and developing positive friendship, skills and meaningful relationships," says the Bear Hug Foundation's website.
Research shows summer camp provides a safe environment for children to develop social and decision-making skills while experiencing the great outdoors. Other benefits include the chance to develop self-confidence, social integration, nature appreciation, and emotional intelligence skills like empathy. DBG campers took turns holding a tiny toad that hopped by one afternoon, swimming and boating on the lake, playing sports, working on art projects, and enjoying the summer sunshine. Evenings were spent around the campfire and sleeping overnight in cozy cabins.
"The kids had a wonderful time, and lots of fun summer memories were made," said Parr. "From all of us at DBG, thank you to the Bear Hug Foundation and Camp Tanuga for this unforgettable experience."