At DBG, the egg(s) came first. Where did the eggs come from? The Belle Isle Nature Center. Now, all the peeps around DBG are chirping about the chicks.
This spring, our students watched with wonder as we nurtured and incubated fertilized chicken eggs in our STEAM Lab. In late May, the big moment arrived – ten baby chicks hatched! Today, French fry, OOber, Cheesecake, Gino, Scramble, Benedict, Ginger, Frittata, Tiago and Henderson are a big part of the DBG family. (Don't you just love the names our students selected?)
"I love to share them with the students, but the chicks can get scared with too many people around. So, I help make sure that only three or four students play with a chick at a time," said Daveon, a high school freshman who plans to study to become a veterinarian. His fellow students elected him as DBG's 'Head Chick in Charge.'
"I take care of the chicks 5-10 hours each week," he explained. "I need to clean and change their straw, clean their cage, change their water, and feed them chicken grit every few hours so they have enough protein."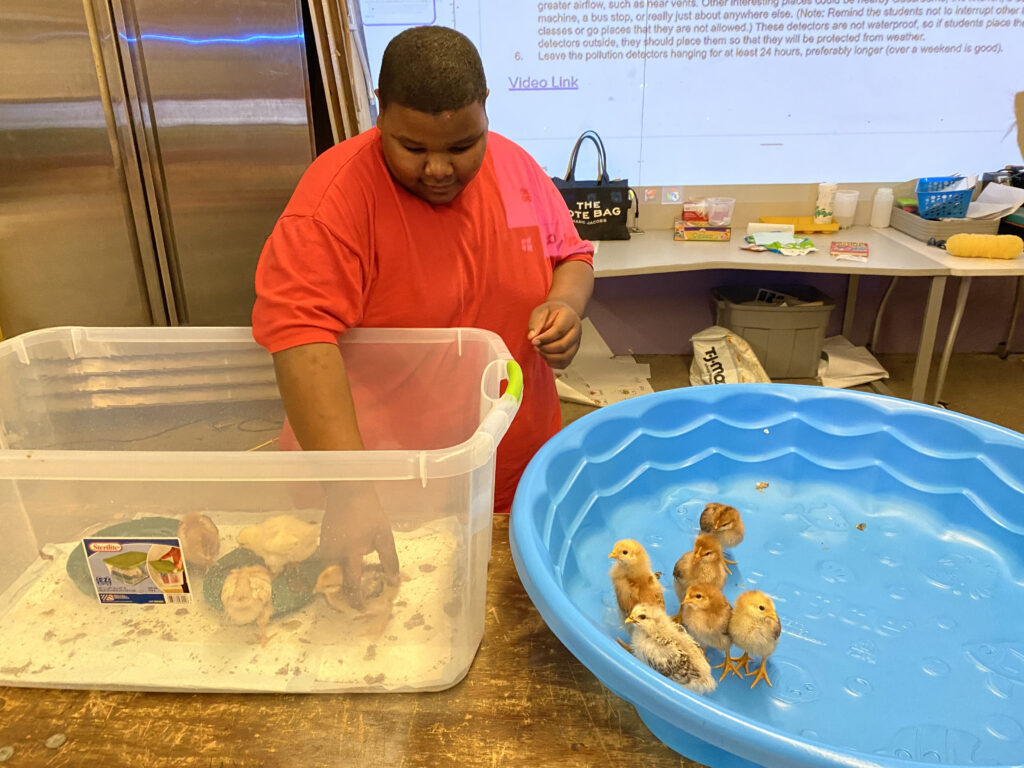 A few weeks ago, a group of volunteers from PricewaterhouseCoopers International assembled a chicken coop, giving the chicks more room to run and grow. Coach Remi, DBG's STEAM Lab Coordinator, hired a few other helping hands to raise them.
Aleena and Da'Vareon are the current student Chicken Technicians. They're also responsible for cleaning the coop and/or cages, feeding the chicks during programming, and assisting other students with holding and learning about them.
"I think the best part is being able to hold them. They are super fragile and soft. It's nice to be trusted with the most gentle part of the gym," Aleena said.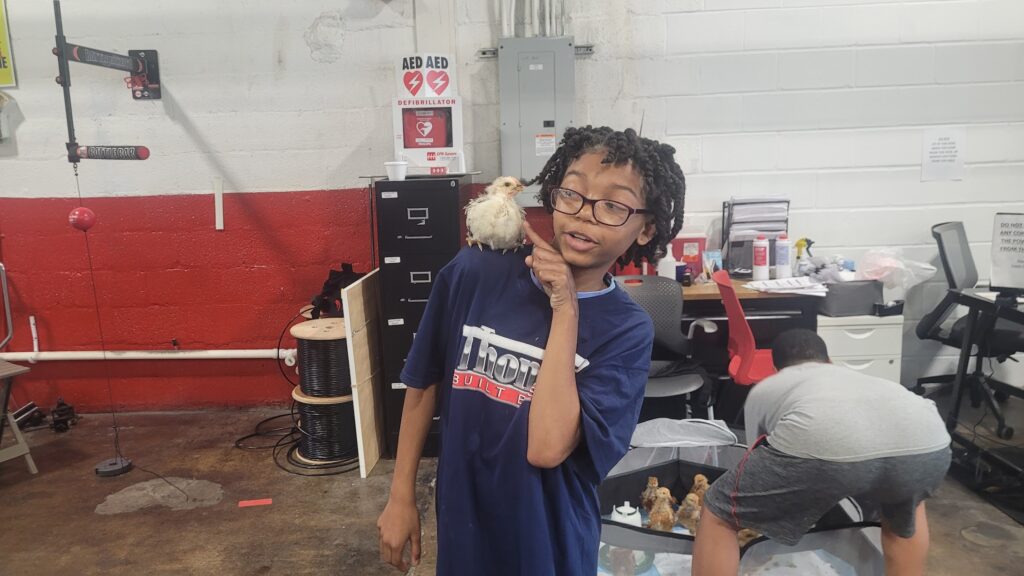 Why all the fuss about chickens at a boxing gym? Bringing nature inside is an excellent way to engage our students, teach how animals grow, and make memories. The kids are learning about life cycles, the importance of caring for living things that are vulnerable, and so much more. This is one of our many green initiatives at DBG, like our student gardens (an idea our they planned, developed, and advocated for themselves), and STEAM Lab compost bins. We're excited for fall, when the hens will lay eggs. Stay tuned!
"Our students had to research and do the math to figure out the right size and which chicken coop to choose," said DBG programs director Katie Solomon. "When children learn to care for animals they learn things like empathy, responsibility, accountability, and hygiene."
"Like many of the activities we host at DBG, raising the chickens is a long term project," added data and literacy coordinator Skylar Burkhardt. "Long term projects help students form connections between the project topic and other concepts important to them. Long term projects also hone students' extra-academic skills by creating consistent and repeated opportunities for leadership, creativity, and success."
Check out some more great photos below of one of the chicks with undisputed middleweight champion Claressa 'The GWOAT' Shields, PWC volunteers building the chicken coop, and with Miss Michigan, Aria Hutchinson.