Soccer? At a boxing gym? Yes and yes! Sports help us build trust and open the door to deeper conversations with our students which ultimately helps them succeed. At the Downtown Boxing Gym, we offer a variety of sports sampling for our kids to try and soccer is a popular choice. Our students got a 'kick' out of a recent soccer clinic with DICK'S Sporting Goods and Detroit City FC which helped them sharpen their skills.
It was a day filled with fundamentals from passing to shooting to goalkeeping. After a series of drills, our students and DCFC players had a friendly scrimmage on our multi-purpose field. Soccer teaches skills that students can apply to all aspects of life like teamwork, perseverance, and decision-making. It also helps them learn to (literally) think on their feet and problem solve.
"We love working with the students in our community" said DCFC defender Billy Forbes.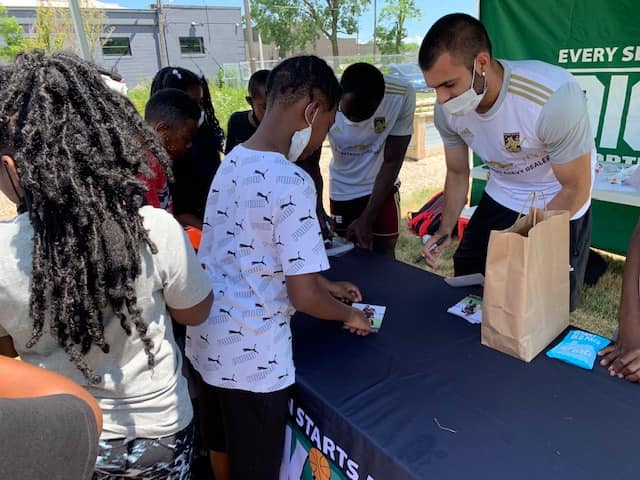 Detroit City FC was founded in 2012 by a group of Detroit natives. The team plays in the USL soccer league, one division below Major League Soccer. As a Detroit-born team, DCFC is active in the community.
"I think what DBG is doing with these kids is unreal," added Pato Botello Faz, a forward for DCFC. "Combining academics with sports and mentoring helps change lives. There's a great idea behind it."
DICK'S Sporting Goods also got in the game, providing soccer balls and an inflatable soccer goal for the students to use. Since 2020, the DICK'S Sporting Goods Foundation has supported DBG in many ways, including renovating our outdoor sports and learning complex and installing the turf field where the soccer clinic took place. Members of the DICK'S team were on hand to help organize the event, play music, and hand out goodies.
"Working with the DBG students has made my year," said one DICK'S Sporting Goods employee. "They're so excited and eager to learn… hopefully this inspires more of them to take up soccer."
Throughout the year, the Downtown Boxing Gym provides a wide variety of sports sampling from boxing to martial arts to hockey, lacrosse, and more.
"We introduce a variety of sports to our students so that each and every one can find a way to get physically active in a way they personally enjoy," said DBG's associate director of athletics, Asiyah Williamson. "Some students love to box, but others want to try soccer, ice skating and other sports. We offer something for everyone."
Thank you to DICK'S and Detroit City FC for an amazing day!