2022 is a big year for the Downtown Boxing Gym. It's our 15th anniversary! We're celebrating 15 years of student achievement and building one of the nation's leading out-of-school time programs from the ground up. If you're new to DBG, we provide a free academic and athletic program that serves Detroit students ages 8-18 with continuing support through age 25, the first years of college and careers. Our program breaks down barriers (like food insecurity, transportation and the digital divide), and provides vital resources (like tutoring, mentorship, enrichment programs, college and career readiness, social-emotional skills building and more) to help our students thrive.
In short: WE TRAIN KIDS FOR LIFE. Click the video player for a look inside DBG!
We have SO MUCH to celebrate! Below is a timeline of some of our major milestones.
2007: Khali Sweeney founded the Downtown Boxing Gym on Saint Aubin Street in Detroit. Our space was small at first but our mission was (and is) mighty. We had some tough years in that building, working hard to keep the lights on and keep the program growing for our students. That hard work, blood, sweat and tears paid off and helped us get to where we are today.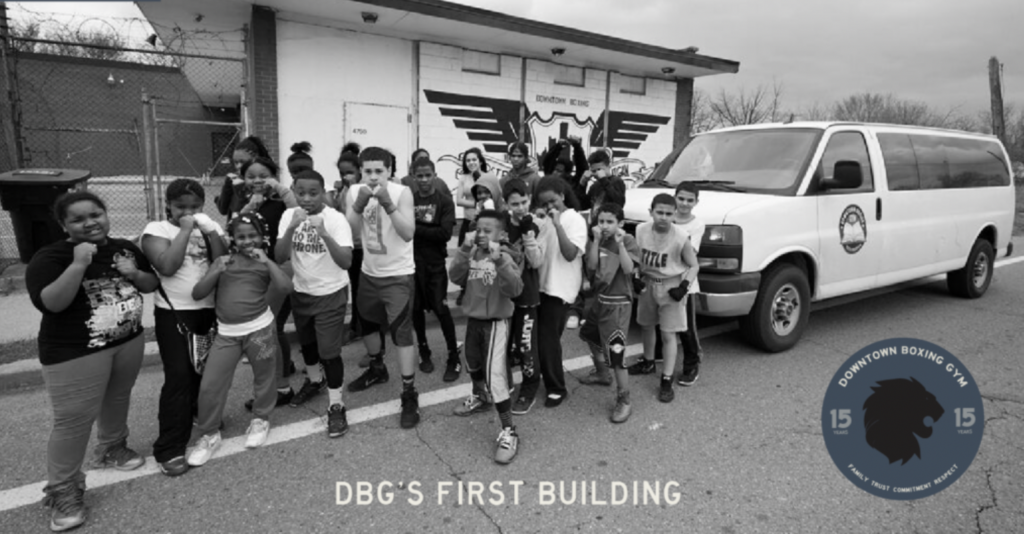 2010: Our Executive Director Jessica Hauser joined the DBG family. She helped us become a 501(c)(3) nonprofit organization and support began to roll in from some of our earliest sponsors. The auto giant General Motors sponsored our first three vans to transport students to and from DBG. Funding from the Dresner Foundation enabled us to hire DBG parents as van drivers. Forgotten Harvest also partnered with us to provide daily food for students. These transformative partnerships helped us break down two major barriers: food insecurity and transportation.
2014: We purchased and began to renovate our current 27,500 square foot building on E. Vernor Highway in Detroit. We also hired our first official employee, Development Director Carolyn Geck.
2015: We held a grand opening celebration and moved into our new building. We added music instruction for our talented students. Professionals started to visit to share career insights with our students, and the Junior Olympics boxing tournament became the first event held in our new facility.
2016: Talk show host Rachael Ray donated a state-of-the-art learning kitchen to DBG. Several of our students were hired as interns through Grow Detroit's Young Talent, and we saw a 227% improvement in math skills among the students participating in our summer program.
2017: Khali was honored as a CNN Hero Top 10 Finalist. Our new music studio was donated by Grammy award-winning producer Jeff Bass, his wife, Julie, and filmmaker Couni Young. We presented our first-ever Al "Blue" Lewis college scholarships to three deserving DBG graduates and added a new fence to our outdoor space to keep our students safe.
2018: Khali received a Governor's Service Award for 'Mentor of the Year,' and Jessica was recognized as part of the Crain's class of 40 Under 40. The Ralph C. Wilson, Jr. Foundation pledged $500,000 to support DBG's future growth. We also celebrated the life and legacy of Stephen Luigi Piazza,

our rock, mentor, cheerleader, big dreamer and most importantly, our dear friend. He passed away after a hard fought battle with cancer.
2019: We kicked off our new literacy intervention program which continues to help students improve their reading skills and change lives to this day. We completed construction of the roof and added 213 solar panels to make our facility more energy efficient. We held our inaugural UnGala, raising funds to help DBG continue to grow. We also unveiled our new logo featuring the DBG lion, held a volunteer appreciation event at Ford Field, and cheered on our first group of student authors who wrote and published their own books.
2020: COVID-19 was unexpected, but it did not slow us down!

DBG responded to the pandemic by providing emergency food and supplies to our families and a comprehensive academic and fitness plan for students. We never missed a single day of programming and made a transition to virtual programming immediately when schools were shut down. When it was safe to return to the gym, we expanded to full-day programming and tripled our staff to meet the needs of our students and their families, many of whom are essential workers. We also

completely re-worked our building to make everything COVID safe. In the midst of it all, we received a new van from Ford and the Detroit Lions.
2021:

As the pandemic continued, so did our hard work and support for our students. We are proud to report that the largest class of seniors in DBG history received diplomas and headed off to college and careers. We made major strides in our efforts to make our building more energy efficient by adding a new heating and cooling system, new windows, insulation and more. We were thrilled to welcome a full-sized bus from Thomas Built Buses and Detroit Diesel. We also dedicated our new outdoor sports and learning complex from DICK'S Sporting Goods Foundation.
2022 and beyond: During this year of celebration, the DBG team is working harder than ever to expand our program and grow to meet the needs of more students in Detroit, across Michigan, and beyond. With our unique mentorship approach and proven track record of student success, we are proud to serve as thought leaders in out-of-school time programming. We're using our knowledge, expertise, skills, and the data we've collected, to help champion access to quality and equitable out-of-school time programs across the state. We've come so far and our students have achieved so much, but we are just getting started. As our founder and CEO, Khali Sweeney, always says, "We're not doing any victory laps, yet. There's still too much work to be done."
Interested in supporting our mission? Click the red button below.