More than half a dozen DBG students packed their belongings and headed off to camp this summer, but the backdrop was a college campus – Lawrence Technological University (LTU) in Southfield.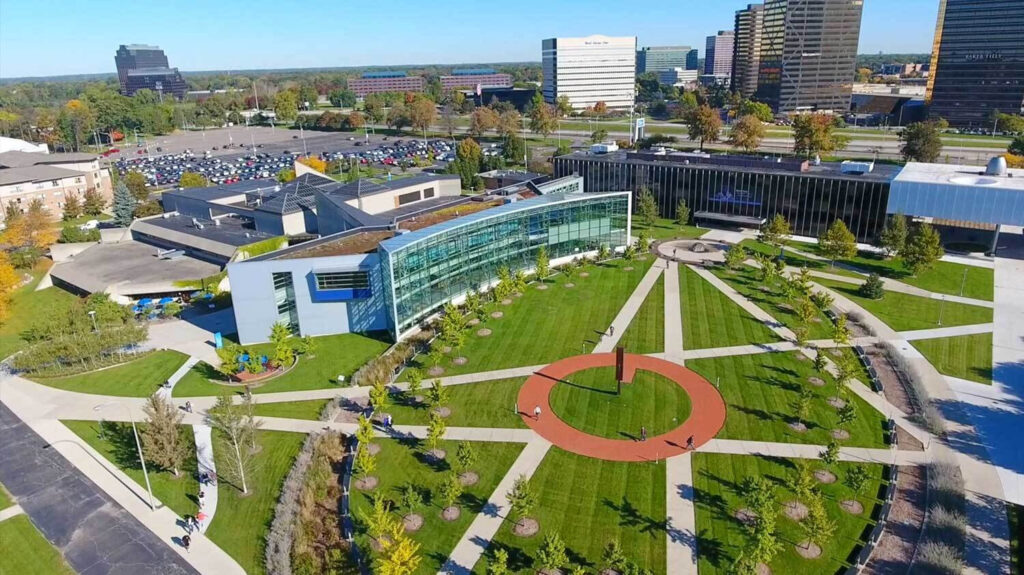 LTU's Marburger STEM Center offers four-day academic camps for students interested in engineering, technology, design, and science. The kids learn about the latest innovations from expert professors in the university's modern labs and studios. As "residential campers" our students got to live in student housing, eat in the cafeteria, and participate in fun activities each evening.
Specific camps focused on architecture and interior design, biomedical engineering, biotechnology, computer networking, cybersecurity and artificial intelligence, graphic design, engineering, industrial design, and more.
Garrett, a DBG 10th grader who attends U of D Jesuit high school, took part in the youth entrepreneurship and global trade camp.
"The days were fun," he said. "The classes were constantly teaching us new things and giving us new perspectives on how to build a business. Even the little things like making connections and building networks."
Garrett served as the VP of Finance for his group's global trade projects which included creating robots that helped solve a problem, a website to see how they looked in various clothes, a small business incubator and more.
"Our professor brought in cultural foods from where he was from," Garrett added. "He was from Persia and our other professor was from South Africa."
In the future, Garrett plans to pursue finance, business and global trade. "I began thinking about these things more deeply when I attended this camp," he says.
Two more DBG 10th graders, Mario and Messiah, attended International Camp in Psychology. This camp connects students from the US and Italy in a shared learning and research study exploring subjects like perception, communication, learning, memory, decision making and more. They are tasked with answering complex questions like: Why do we sleep and dream? Why do we feel fear and happiness? And how much of our brain do we use?
"The classes were great. We talked about what our perfect world would be and made posters about it. We learned about different aspects of psychology," Mario explained. I want to be a real estate attorney. This experience helped me understand the study of the mind and how people think."
While the classes were up to three hours long, Messiah says interacting with his peers and the professor kept him engaged. He enjoyed a psychology experiment about animal behavior where students watched zoo live cameras and analyzed what they saw.
"Staying on campus was so different," Messiah said. "It was a chance to interact with other people, to network, and learn about college. I actually want to be a psychologist, so this gave me a step toward my career goals."
Summer is a critical season that can signifcantly impact how students show up for the next school year. At DBG, we provide an intensive six-week summer program with a wide variety of learning and growth opportunities (and fun, too) that set our students up for success. In addition to Lawrence Tech, thank you to the following partners who supported our STEM-related programming this summer: Ford STEAM, United Way for Southeastern Michigan, Toni A. Wisne Foundation, KLA Corporation, and Comcast NBC Universal.